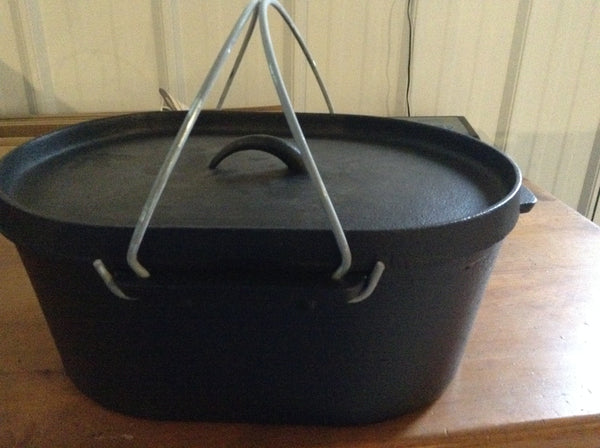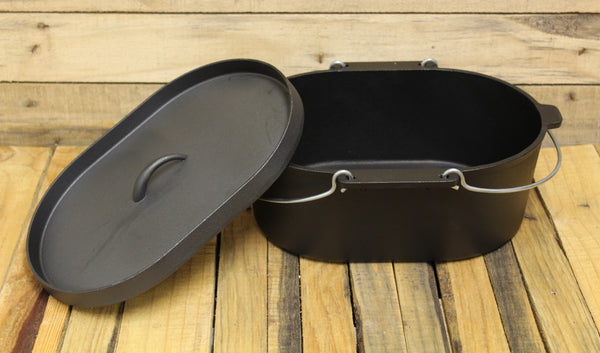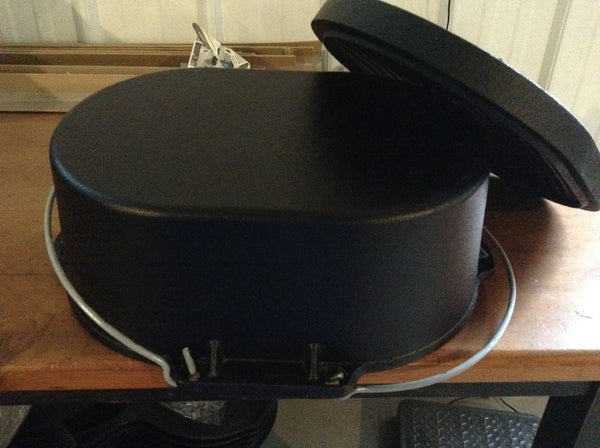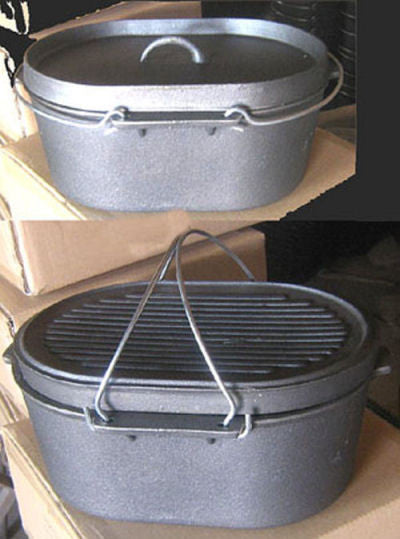 Cast iron Oval Roaster Self-basting lid 10qt Dutch Oven
Regular price
$ 139.95
Sale price
$ 109.97
---
Heavy Duty Self-Basting Oval Roaster 
10 quart Pure cast iron Turkey Kettle
Our best seller
Wilderness Survival Cookware
100% Pure Cast Iron
Old-world iron cookware, when well-designed, is far more convenient than many people who haven't tried cooking with cast iron suppose. This superb self-basting oven roaster is a perfect example. The foundry-cast deep oblong has a lid whose self-basting underside ensures moist and tender roasts and turkeys. Its pure iron construction allows for perfect heat distribution and maintenance. In a shape planned for versatility, it also features a flat bottom, double carrying handles, and a deeply-lipped lid for holding hot coals – so you can use it on the stovetop, in your oven, or nestled in the coals of your campfire Dutch oven-style.
Cast iron leaves you free of worries about scratched coatings, goes conveniently from kitchen to campsite, and is also widely preferred for the preparation of foods to be eaten in ritual meals. Properly cared-for according to the included seasoning and safety instructions, your roaster will continue to deliver perfect turkeys and exquisite roasts for years.
Made from pure cast iron with no pot-metal additives iron cookware is molded, finished, polished, and oil-seasoned. Each item is food-safe and can be used for cooking, burning incense or candles, holding coarse-ground spices or herbs, or an endless array of other uses. Enjoy the selection of implements, including a wide range of traditional potjie cauldrons and dozens of campfire-friendly kettles and pans, to suit your every culinary need outdoors and in.
Oval roaster with double handles for carrying and a self-basting underside to the lid for cooking turkeys and roasts and anything else that would require frequent basting for added moisture. The other side of the lid has a deep lip for holding hot coals to turn this into a mini baking oven when used outdoors and set over hot coals. The self-basting lid will make some of the best turkeys or roasts and prevents the meat from becoming too dry. This heavy cast iron pot can be used on stovetops, in ovens or outdoors over hot coals for the Dutch Oven cooking specialist. These Cast Iron Roasters are factory coated with a baked on vegetable oil and with seasoning, will blacken over time and with use.  Complete seasoning instructions are included.  
Cook virtually anything in this outdoor oven that you can cook in a regular oven, from potatoes to roasts to cinnamon rolls.  These ovens are Award-Winning pots from many Dutch Oven Cook-offs and Potjie BBQ Clubs.
Quality Cast iron seems to be expensive but anyone who has used it 
knows the value,  how it will last for generations, 
is very heavy and almost indestructible.
Oval Roaster  
Height: 8" (with handles in up potions: 11.5"
Length: 16"
Width:  12"
Weight:  @26 lbs
Capacity: 10 qts / 2.5 gal
We do not collect VAT/Taxes to Canada
This is the purchasers responsibility
---