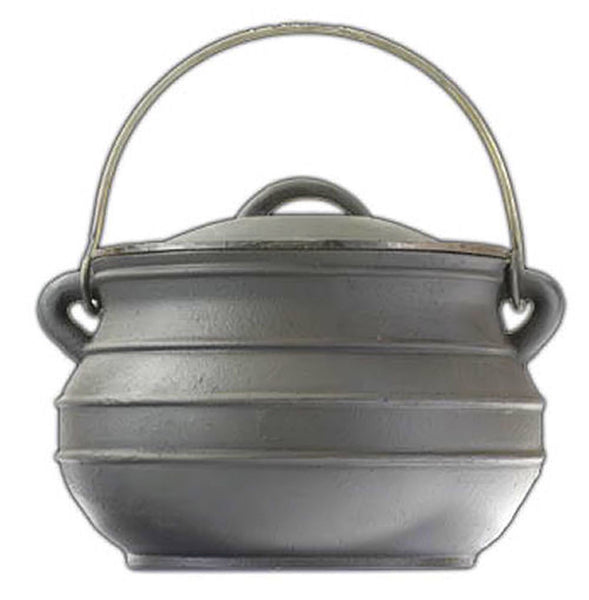 Flat Bottom #1 Cast Iron Bean pot
Regular price
$ 87.95
Sale price
$ 76.97
---
# 1 Flat Bottom
Plat Potjie Approx 5 quarts
Pure Cast Iron Bean pot
Chefs favor cast iron cooking pots for their superior heat retention and distribution, and this expertly crafted flat-bottomed potjie cauldron is a splendid example. The rounded belly's surface has concentric raised lines; within a turned-up lip, a round lid with a central handle neatly fits. Over the lid arches a free-moving, sturdy metal handle that can be used to move or hang the pot.
This potjie measures 5 inches high and 9 inches wide, and holds @5 quarts within it. The solid iron construction gives it a satisfying weight of 12 pounds. Follow the included seasoning and fire safety instructions and this pot will serve admirably from stovetop to campfire to altar and back.
These are newly manufactured and coated with a baked on vegetable oil to preserve the cast iron.  Seasoning these cooking pots in the 'Old Fashioned Way' with a good shortening or vegetable oil will blacken them naturally over time and with used.  This will also make the pot stronger and more elastic (yes, cast iron can become brittle), resulting in a more beautiful pot like cast iron from the old days. 
# 1 Potjie Flat
Height: 5.0"
Width: 9"
Capacity: @5 quarts
Weight: @12 lbs
Works great with a tripod - Not Included - this posting is for one #1 flat bottom only
Our flat-bottomed potjies (pronounced "poikeys") are a re-imagining of a time-tested form of cooking pot that has been used throughout Europe and Africa since at least the 1600s, and possibly as far back as the Iron Age. They adapt the cast-iron construction and rounded shape that cause potjies to cook food so evenly and well, compromised with a flat bottom so that this exceptional sample of ancient crafters' genius can be used on modern stovetops. Each potjie pot is equipped with a sturdy handle for lifting and a well-fitted lid. Cook in your flat-bottomed potjie by hanging it over a fire or placing it on a stove burner, or pile hot coals against the deep lip of the lid to make an efficient Dutch oven.
Made from pure cast iron with no pot-metal additives , cauldrons and iron cookware from Annie's Collections™ are molded, finished, polished, and oil-seasoned. Each item is food-safe and can be used for cooking, burning incense or candles, holding coarse-ground spices or herbs, or an endless array of other uses. Seasoning instructions will be included with your purchase. Enjoy the selection of standing and hanging pots, ranging from a favor-sized mini cauldron to a 19-plus gallon cooking kettle, and related iron implements to fit your every need.
We do not collect VAT/Taxes to Canada
This is the purchasers responsibility