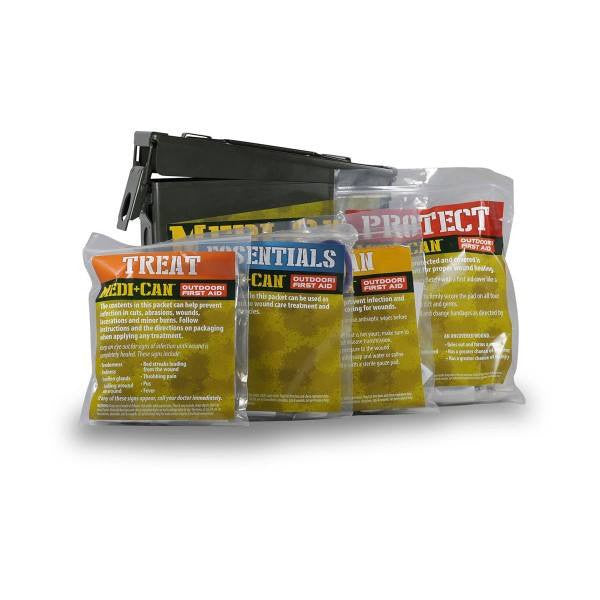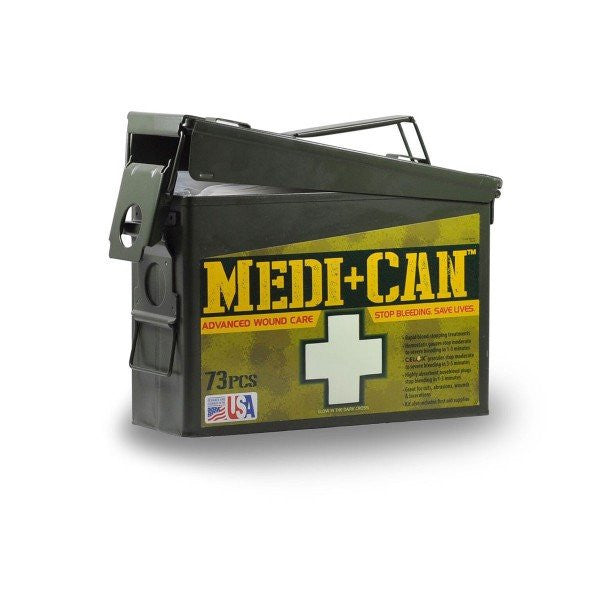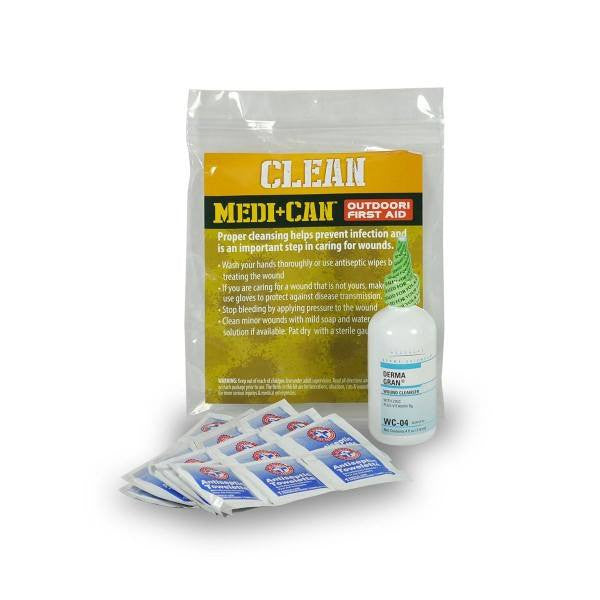 MEDI+CAN Advanced Wound Care Kit
 Advanced Wound Care Kit MEDI+CAN
The 73 piece Advance Wound Care Kit is great for cuts, abrasions, wounds and lacerations. This kit has everything you need to stop bleeding within 1-5 minutes. Hemostatic gauzes stop moderate to severe bleeding in 1-3 minutes. Celox granules stop moderate to severe bleeding in 3-5 minutes. Highly absorbent nosebleed plugs stop bleeding in 1-3 minutes. This kit also includes first aid supplies and much more. See below for content specifics.
What's included in this kit?
Clean: 1 Wound Wash 4 oz, 18 Antiseptic towelettes
Treat: 2 Hemostatic Gauze Pads (4 in x 4 in), 2 Celox Wound Care Granules, 2 Nosebleed Plugs, 1 Cleox Instructional Guide, 1 Sterile Burn Dressing (4 in x 4 in), 10 Aspirin Tablets, 10 Non-Aspirin Tablets, 1 Tourniquet - Quick Release, 6 Nitrile Gloves
Protect: 2 Sterile Trauma Pads (5 in x 9 in), 1 Blood Stopper (5 in x 9 in) with 4 inch Roll, 2 Triangular, Bandages (40 in x 40 in x 56 in), 1 Hypoallergenic Tape (1 in x 10 yd), 10 Adhesive Bandages (2 in x 4 in)
Essential Tools:  1 Shear Scissors, 1 Emergency Thermal Blanket, 1 Biohazard Trash Bag
Product Instructions: Instructions for use on blood-stopping granules, hemostatic gauze pad and nosebleed plugs are included inside pre-packaged treatments.
Product Warning:  Keep out of reach of young children - Use under adult supervision
Please check instructions and expiration prior to use
This kit is for treating minor wounds and injuries. Seek a medical professional for more serious injuries
Glow Illumnation Technology 
To maximize the Glow Illumination Technology, the First Aid symbol needs periodic exposure to artificial or natural light. Exposure to natural light will result in a stronger glow compared to normal indoor lighting, The intensity and duration of the glow may vary depending on the length of light exposure. For instant illumination, a flashlight can be used to charge the First Aid symbol and will intensify its Hi-Visibility feature.
May Contain oxygen absorbers. Discard immediately upon opening. 
We are only able to ship Wise Food Company items within the continental USA- Not Alaska or Hawaii 
This item ships free
 Wise Food Storage Quality Control: Our first and highest priority is the safety of the consumers who use our products. We take pride in helping families prepare for the unexpected. With a 99% satisfaction rate and millions of pouches sold, Wise has quickly become the nation's leader in emergency preparedness.