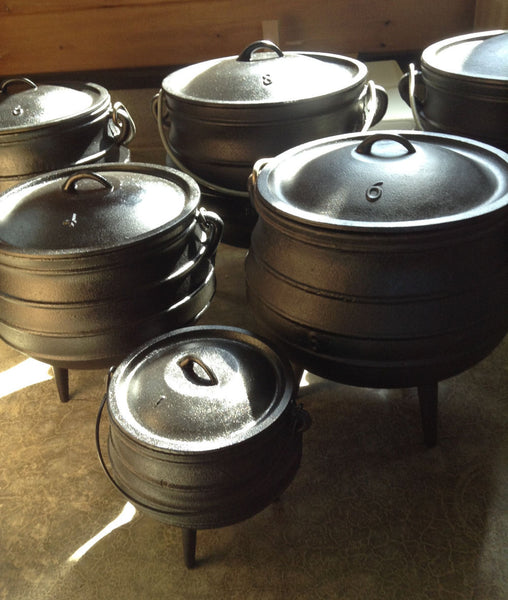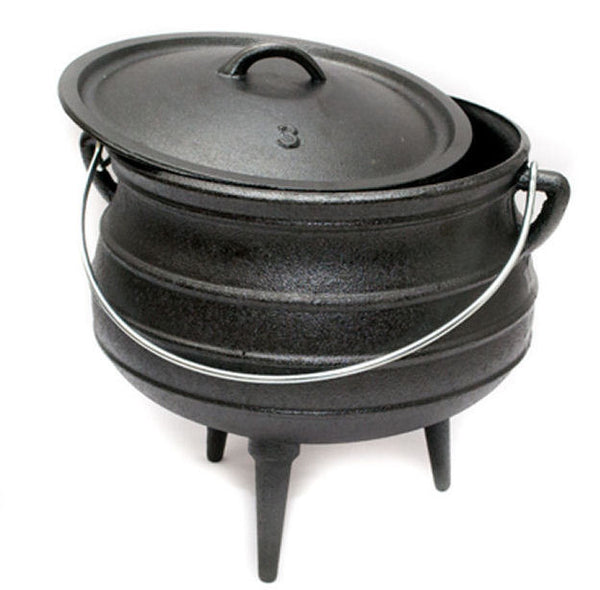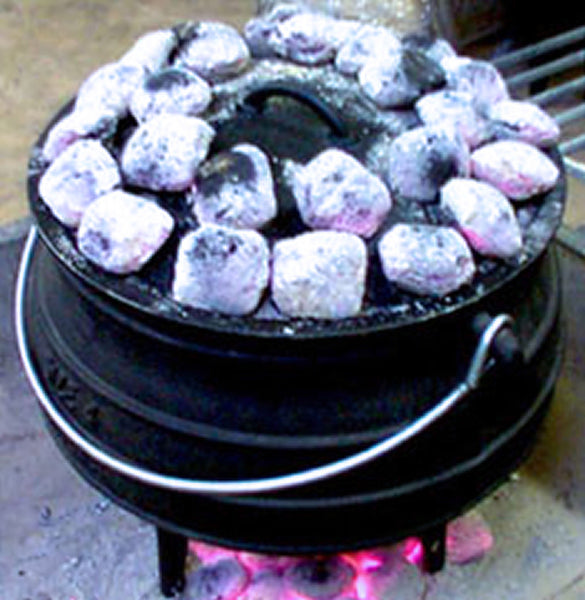 Size 3 Potjie Pot Cauldron Outdoor Cookware
Regular price
$ 129.95
Sale price
$ 104.98
---
Size 3 Potjie Pot
Cauldron
Pure Cast Iron
Outdoor Cookware Renaissance Festivals 
One of our best sellers
This beautifully foundry-crafted cauldron holds two gallons but measures less than a foot in any direction. The large capacity is granted by the classic potjie shape, a splendid sample of Iron Age practical science that cooks in any environment with remarkable efficiency. Parallel ridges run around the outside of the spherical potbelly. The potjie is also equipped with a secure arched handle running well above a round lid that fits perfectly into its mouth.
Three rugged legs, tall enough to hold the belly over a substantial fire, support the potjie, which measures 10.75 inches high and 11.5 inches wide. Its capacity is 8 quarts, and its pure cast-iron construction gives it a weight of 25 pounds.
Potjie pots are newly manufactured and coated with a baked on vegetable oil to preserve the cast iron.
Seasoning these cooking pots in the old fashioned way with a good shortening or vegetable oil  will blacken them naturally over time and with use, this will also make the pot stronger and more elastic (yes, cast iron, can become brittle), resulting in a more beautiful pot like cast iron form the old days.
Image of multiple potjies is for comparison only
Size 3 Potjie Pot
Height: 10.75"
Width: 11.5"
Capacity: 8 Quart
Weight: 25 lbs
Potjie Pots are made in many sizes from small herb pots to large cook kettles. Pots include well-fitted lids and heavy duty carrying handles. The round shape allows the heat to flow evenly around the sides and maintain liquids at the lowest point to keep food from burning. The lid has a deep lip for holding hot coals providing top heat. Used world-wide for Cajun stews, jambalayas, paellas, sea foods, Fish Fries, Beans, Turkeys, Roasts and anything you can cook over an outdoor fire. Excellent for cooking over open fires or LP gas burners.
We do not collect VAT/Taxes to Canada
This is the purchasers responsibility
---