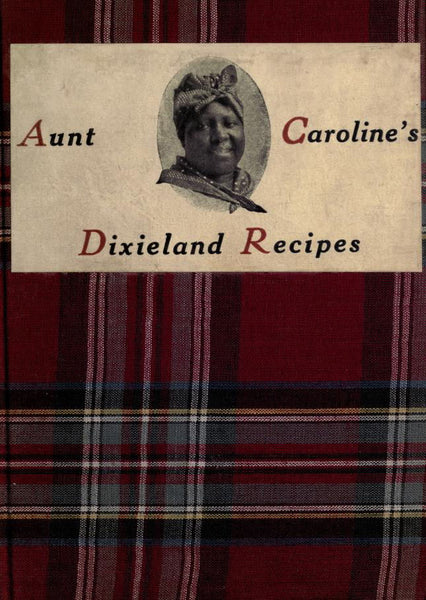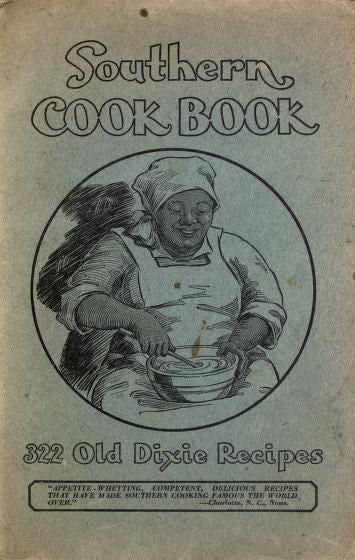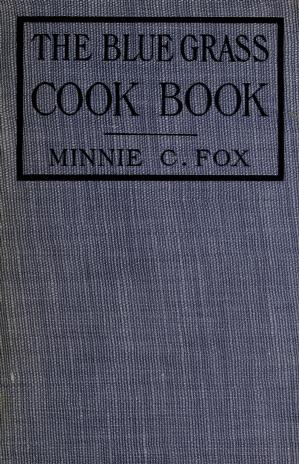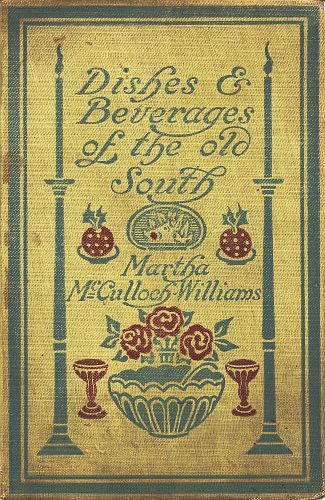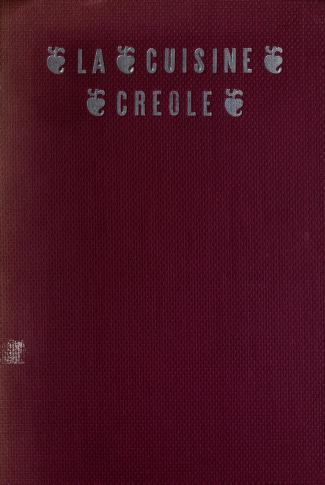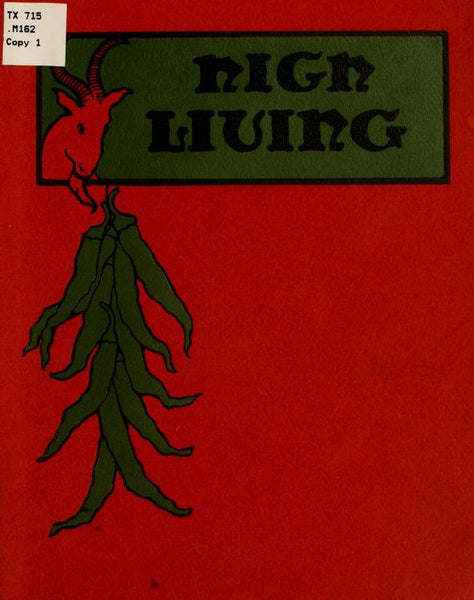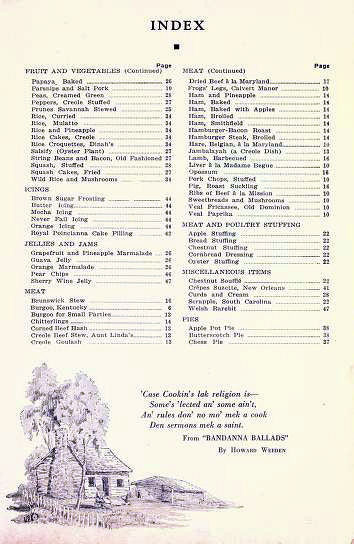 Great Recipes of the South on CD 45 Vintage Cookbooks
Great Recipes of the South
45 Different Scanned books
On CD-ROM - Free shipping

The cuisine of the Southern United States is defined as the regional culinary form of states generally south of the Mason-Dixon Line extending west into Texas
These are a few of the most famous cookbooks, all are a scanned copy of the original and are in the public domain.

Southern Cook Book - 322 Old Dixie Recipes
Copyright: 1935
Public Domain

Introduction
"People think of the Southland as the place where the sun shines brighter, the breezes are gentler, the birds sing sweeter and the flowers are fairer. We, who have edited this cookbook, which we hope you will find helpful, think of the Southland as the hearthstone of superb cooking. To attempt a Southern Cook Book in one small pamphlet was an ambitious undertaking. There were many fine recipes that should have been included but lack of space would not permit. It became the editors' problem to select as many, as varied and as useful a collection of recipes as it was possible to include in these few pages. Many fine dishes had to be omitted to make way for better ones.
Every part of the Southland is individual and distinctive in its cookery. The "Creole Dish" of New Orleans has nothing to do with racial origin but rather indicates the use of red and green peppers, onions and garlic. Oranges, grapefruit and avocados play an important part in Florida cookery. Maryland is famous for its fried chicken and its delicious sea food recipes. One thinks of Virginia, its hot breads and its sugarcured hams. Kentucky is known for its corn "likker" and its flannel cakes. Only one thing is universally true: Every corner of the South is famous for its fine cookery….
The very name "Southern Cookery" seems to conjure up the vision of the old mammy, head tied with a red bandanna, a jovial, stoutish, wholesome personage ... a wizard in the art of creating savory, appetizing dishes from plain everyday ingredients. But it should be remembered that not all the good cooks of the Southland were colored mammies ... or folks who lived on plantations. Southern city folks are also famous for their hospitality, their flare for entertaining and the magnificence of their palate-tickling culinary efforts. Most of the recipes in this book were gathered from this latter source, though they undoubtedly in many cases owe their origin to the colored mammies who rarely bothered to write down their recipes . . . for they were good cooks who most often could neither read nor write . . . didn't have to ... you just put 'em in front of a stove with the fixin's and they created somethin' grand . . . even if they couldn't always 'splain you jus' how.
All your life you have heard of the traditionally famous dishes of the Southland.
No names appear so frequently on hotel menus as Dixie names. No cooking seems more famous or synonymous with quality and deliciousness than Southern cooking. You will find here, published for the first time in book form, we believe, the truly amazing recipe ….We believe this book to contain a remarkable cross-section of fine recipes and we hope you will find it a valuable aid in your culinary efforts."

Aunt Caroline's Dixieland Recipes
By: Emma and William McKinney
A Rare Collection of Choice Southern Dishes
Copyright: 1922
Public Domain

Southern Recipes Tested by Myself
By: Laura Thornton Knowles
Copyright: 1913
Public Domain

La Cuisine Creole                                                                                      A Collection of Culinary                                                                       Recipes By Lafcadio Hearn              Copyright: 1885                                                                                                            Public Domain
Dishes & Beverages of the Old South
By: Martha McCulloch-Williams
Copyright: 1913
Public Domain

The Blue Grass Cook Book
Compiled by: Minnie Fox
Introduction by John Fox, Jr.
Copyright: 1917
Public Domain

Echos of Southern Kitchens
Compiled by: Robert E. Lee Chapter
United Daughters of the Confederacy
Copyright: 1916

The Dixie Cook Book
By: Estelle Woods Wilcox
Copyright: 1885
Public Domain

What Mrs. Fisher Knows About Old Southern Cooking
By Abbie Fisher
First published: 1881
Public Domain

High Living
Recipes From Southern Climes
Compiled by: L. L. McLaren, Edward H. Hamilton, W. S. Wright
Public Domain
Originally published in 1904

The Century Cook Book
By: Mary Ronald
Copyright: 1901
Public Domain

Maryland and Virginia Cook Book
By: Mrs. Charles H. Gibson
Copyright: 1894
Public Domain

This is on CD, will play on your computer, all are in PDF and you will need to have a PDF reader.  We ship via USPS First Class within the US only

All eBooks are in the Public Domain - out of copy write
---